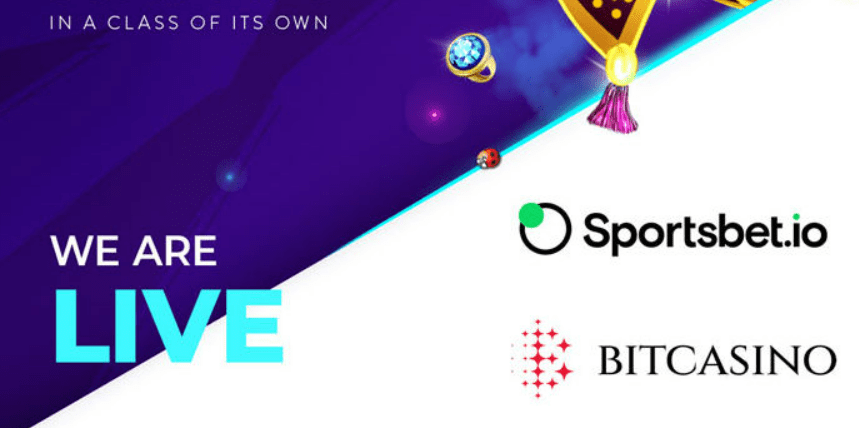 In an exciting development for the iGaming industry, 7777 Gaming has entered into a landmark content partnership with Yolo Group, the operator behind the renowned Bitcasino and Sportsbet platforms. This collaboration aims to elevate consumer engagement and further solidify the position of these esteemed websites.
With this strategic alliance, 7777 Gaming is set to unveil its extensive collection of over 100 games on both the Bitcasino and Sportsbet platforms. Initially, the launch will feature 25 of 7777 Gaming's remarkable titles, gradually expanding to encompass the full range of games, including future releases.
Yolo Group has made a name for itself as a trailblazer in the iGaming sector. Since their respective launches in 2014 and 2016, Bitcasino and Sportsbet have established themselves as premier iGaming destinations, capitalizing on the rising popularity of blockchain-based casino experiences. These platforms have attracted a vast player base, showcasing the integration of crypto technologies into online gambling in a secure and reliable manner, all while prioritizing the needs of consumers. Yolo Group recently forged a partnership with Livespins, further demonstrating their commitment to innovation and expanding their content library with interactive products.
Expressing her enthusiasm, Larisa Karaboycheva, the account manager for 7777 Gaming, embraced the opportunity to have their portfolio launched alongside these exceptional brands, Bitcasino and Sportsbet, part of the esteemed Yolo Group. Karaboycheva emphasized the positive implications of this collaboration for both parties in the long run, stating, "We are delighted to introduce our cutting-edge games to Bitcasino and Sportsbet, two innovative and outstanding brands within the Yolo Group family. Our games are meticulously designed to deliver the ultimate user experience, and we are confident that their players will thoroughly enjoy them. We eagerly anticipate expanding our portfolio and fostering a long-term partnership with Yolo Group."
While Sportsbet.io primarily operates as a standalone sports betting platform, the company has successfully ventured into the realm of iGaming. Recognized as a pioneer in the betting industry, Sportsbet.io has made remarkable strides, securing access to esports markets alongside traditional sports. To further bolster its presence in the esports vertical, the company recently joined forces with Oddin.gg.