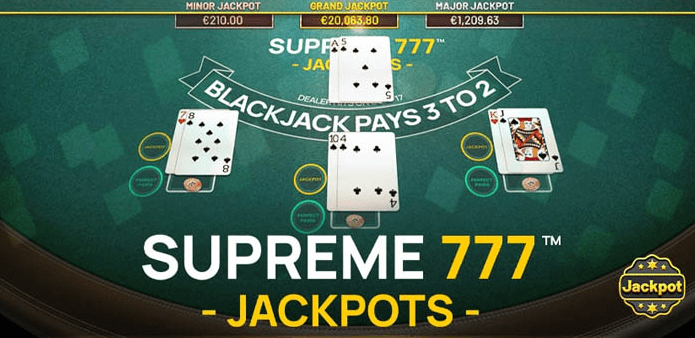 Betsoft Gaming, a renowned game developer, has recently unveiled a groundbreaking blackjack-inspired game called Supreme 777 Jackpots. This new table game offers players a host of exciting features to enhance their gaming experience.
Supreme 777 Jackpots brings together traditional blackjack and jackpot games, incorporating a Progressive Jackpot feature and Perfect Pairs Side Bets mechanic. These innovative elements provide players with more opportunities to win substantial amounts of money.
In this game, three hands of blackjack are played simultaneously across six decks. The rules are based on the well-known "Las Vegas Strip" rules, with the pack being shuffled after each round. Additionally, players have the option to double after splitting and can double down on cards 9, 10, and 11 exclusively.
Each hand played is against the dealer, and bets can be placed on each hand and feature separately or simultaneously, adding to the game's versatility and excitement.
The objective of Supreme 777 Jackpots remains the same as traditional blackjack: to achieve a score of 21 or get as close to it as possible. Players who beat the dealer will receive winnings of 3/2x before the next round begins.
Perfect Pairs Side Bet, another captivating feature, allows players to try and match the first two cards dealt based on their face value, color, or both. Successful matches can result in instant payouts of up to 25 times the initial bet.
Moreover, the Supreme 777 Jackpots mechanic introduces the opportunity to win three different jackpots: Minor, Major, and Grand. It's important to note that the jackpot betting is separate from the main blackjack game, creating an additional layer of excitement and potential rewards.
To win a jackpot, players must place a jackpot bet and receive 7s as their cards. The payout increases with each 7 dealt, and if the first three cards are all 7s, the player wins the jackpot. The Grand Jackpot is awarded when all three 7s are of the Spades suit.